Bishop Felipe A. Salazar
President (Current)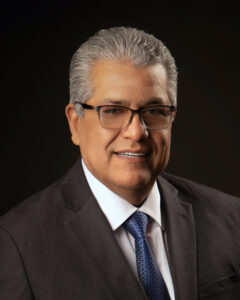 Bishop Felipe A. Salazar is the President of the Apostolic Assembly, elected for the 2022 to 2026 term.
He was born on May 27, 1959, in National City, California. His father, Pastor Felipe Valles Salazar, was an early Apostolic missionary to the Mexican state of Oaxaca and he also pastored in Northern Mexico, Arizona, and the Los Angeles area.
Inspired at a very early age by his father to preach the Gospel, he was baptized in the Name of Jesus Christ on April 13, 1975. Bishop Salazar was ordained to the ministry in 1984. He served the Los Angeles District as Youth President and in other positions in the youth department. On January 29, 1993, he was appointed Pastor of the Second Church of San Pedro, California. On December 16, 1998, he assumed the pastorate of the congregation of Compton, California, known today as "Hosanna Apostolic Church."
After serving for eight years as District Treasurer, the pastors of the Los Angeles district elected him to serve as their Bishop Supervisor. He served in that office for eight years. Bishop Salazar was elected to serve as the General Secretary of the Apostolic Assembly at the 2014 General Convention. Then, four years later, he was elected by the pastoral body to serve as the Vice President of the general assembly. Bishop Salazar was elected to serve as the twelfth President of the Apostolic Assembly on November 26, 2022 by the General Convention.
Bishop Salazar and his wife Rose live in Long Beach, California. God has given them four children: Jazmine (married to Micah Johnson), Kimberly (married to Jonathan Garza), Phillip (married to Melanie Escudero), and Katherine (married to Evan Weathersby). God has blessed his family with ten grandchildren: Kennidee, Jackson, Wesley, Olivia, Phillip, Paul, Winston, Judah, Maxwell, and Emryn.
In the beginning, was the Word, and the Word was with God, and the Word was God.
Then Peter said unto them, Repent, and be Baptized every one of you in the Name of Jesus Christ for the remission of sins, and ye shall receive the gift of the Holy Ghost.
 For God so loved the world, that He gave his only begotten Son, that whosoever believeth in him should not perish, but have everlasting life.
A new commandment I give unto you, That ye love one another; as I have loved you, that ye also love one another. By this shall all men know that ye are my disciples, if ye have love one to another.