Francisco F. Llorente
General Pastor (1925 -1928)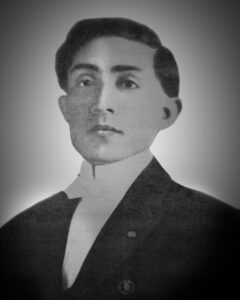 From Artist to Preacher
Francisco F. Llorente (1886 – 1928) was born in the coastal city of Acapulco, Guerrero, México on March 9, 1886. He was the first Bishop President of the Apostolic Assembly and the only one to have died in office. A painter, he immigrated to the United States in 1909. The Lord reached him through Minister Juan Navarro and he was baptized in Jesus' Name in 1912. He established various churches, concentrating his ministry in the largest cities of California: San Francisco, Los Angeles and San Diego. People would be slain in the Spirit as he preached and miracles followed him. Brother Llorente was the author of many hymns, including "Jesús me habló." His first spouse was sister Delfina Raygoza with whom he had three children.
First Bishop President
A reluctant leader, his fellow ministers elected him their General Pastor in 1925 at the first General Convention in San Bernardino, California. After this first Convention, pioneer Nava married brother Llorente with sister Juanita Peachy. Brother Llorente led the first three Conventions from 1925 to 1927, he provided the first ministers with their credentials from the Pentecostal Assemblies of the World, established the first three districts, presided over the first Convention agreements and he published our first Doctrinal Statement. He rested in the Lord at Yuma, Arizona on September 8, 1928.
In the beginning, was the Word, and the Word was with God, and the Word was God.
 For God so loved the world, that He gave his only begotten Son, that whosoever believeth in him should not perish, but have everlasting life.
Then Peter said unto them, Repent, and be Baptized every one of you in the Name of Jesus Christ for the remission of sins, and ye shall receive the gift of the Holy Ghost.
A new commandment I give unto you, That ye love one another; as I have loved you, that ye also love one another. By this shall all men know that ye are my disciples, if ye have love one to another.